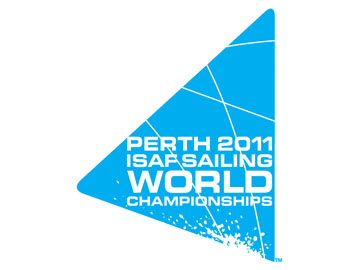 A promised afternoon sea breeze failed to materialise for Group B crews in the Perth 2011 ISAF Sailing World Championships in their first taste of competition on Fremantle's inner harbour Sunday, 4 December.
While hot easterlies saw 20 matches completed, the remainder have been postponed to Tuesday, 6 December, after a forecast afternoon sea breeze failed to materialise.
Sailing action in the first four flights of the day saw strong performances from Lucy Macgregor (GBR) and her crew, with clear wins in three out of four matches, beaten only by Australian teenager Olivia Price and her crew.
The two teams from Netherlands found themselves going head to head in Group B.
Renee Groeneveld (NED-2) and Mandy Mulder (NED-1) had each recorded three wins, but up against each other, it was Groeneveld and her crew who crossed the line two boat lengths ahead.
Group B sailors first encountered gusty easterly winds up to 15 knots, but a short-lived wind change at midday forced a course change-over. As a result, the final match - between the two Spanish teams – was postponed to the second day of Group B racing on Tuesday.
The forecast sea breeze failed to arrive in time for Olivia Price (AUS-2) to open up a gap on Silvia Roca (ESP).
Neither team flew a spinnaker as they crawled down the last leg of the course with very little pace until the last few metres, when Price saw her chance and cut in ahead of Roca, winning the match.
Poor wind conditions continued into the afternoon which saw racing to grind to a halt as the course was arranged and rearranged in an attempt to accommodate the changes.
Taking to the water for flight 32, was the second group of Elliot 6m crews. However, the sailors competed more against the dying wind and tidal flow than against each other.
In flight 33, France and Croatia struggled to gain momentum in match 1 as the famous Fremantle Doctor still failed to appear.
With an almost non-existent breeze, ISAF officials decided that would be the last race of the day, postponing the days remaining flights until Tuesday, 6 December, when Group B is next scheduled to compete.
Group A will continue Woman's Match Racing at 10:00 on Monday, 5 December.
For live results please visit
perth2011.com/results
.
Flash Quotes:
Renee Groeneveld (NED-2) - Skipper
On her crew's performance: "Not too bad, some mistakes were made so it wasn't perfect, but overall I'm pleased."
On the course in Fremantle's inner harbour: "Beautiful, really beautiful. However very narrow."
Trine Abrahmsen (DEN) - Skipper
On the morning's racing: "We didn't go too well but we have two races later so we will try to win some."
(From the Perth 2011 website:
www.Perth2011.com
)