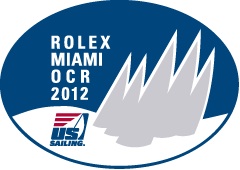 US Sailing's 2012 Rolex Miami OCR: Champions Crowned in Ten Olympic Classes
MIAMI, FLA. (January 28, 2012) – In the lightest breezes yet over six days of sailing on Biscayne Bay, ten Olympic classes racing in US Sailing's Rolex Miami OCR still managed to put on quite a show as they competed in their final medal races to determine gold, silver and bronze winners. Following the same format as the 2012 London Olympics and Paralympics, the event also hosted three Paralympic classes (which determined medal winners yesterday) and a total of 529 sailors from 41 countries.
Lucy Macgregor/Annie Lush/ Kate Macgregor (GBR) won the gold medal in Women's Match Racing with a 3-1 win over Olivia Price/Nina Curtis/Lucinda Whitty (AUS), who had to settle for silver after their fates were sealed in the final match of their first-to-three flight. The race looked to be going the Aussies' way when GBR lagged as much as 12 boat lengths behind during the first lap of the twice-around course. Their momentum was halted, however, on the second upwind leg when they hit some major waves and tried to tack with too little speed while GBR closed the gap. Back in the game, GBR sailed to a lead that exchanged mouse for cat, and with plenty of further batting around, proved that match racing is one of the most exciting Olympic disciplines to watch.
Taking bronze in the Petit Finals after battling with Finland's Silja Lehtinen/Silja Kanerva/Mikaela Wulff was the USA's Sally Barkow (Nashotah, Wis.)/Elizabeth Kratzig-Burnham (Miami, Fla.)/Alana O'Reilly (Charleston, S.C.).
A complete roster of competitors can be viewed at the event website
rmocr.ussailing.org
, where video highlights produced by T2p.tv and presented by Rolex are available on-demand and full regatta results, photos and news updates are posted. Fans also followed the event on Facebook/RMOCR and Twitter/RMOCR.