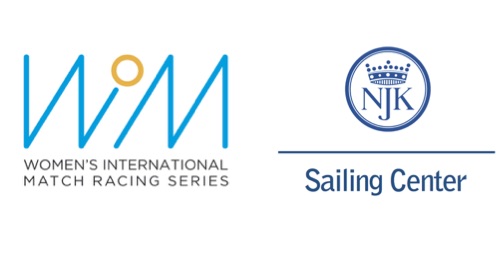 Thirteen Teams To Compete In The 2018 Helsinki Women's Match
Helsinki Women's Match starts tomorrow on the the island of Blekholmen. Thirteen teams from six countries will be competing to get important points on the scoreboard in the first of five events of the 2018 WIM Series.
The event is hosted and organized by Nyländska Jaktklubben, NJK, which was founded in 1861 and is with more than 2 000 members and numerous yacht racing accomplishments the leading Finnish Yacht Club. "NJK is very pleased to host WIMRA for the third consecutive year. The World Championship event last year was the main event in our 2017 theme "Ladies First". We were really happy with the memorable feeling among competitors, race officials and volunteers at NJK during the event. We hope to offer competitive sail racing and that great feeling this year as well. Competitors and fans are all warmly welcome to Blekholmen, Helsinki, the site for sail racing since 1885", says Mats Welin, Commodore of Nyländska Jaktklubben.
Nyländska Jaktklubben has trained several Olympic champions, and has a great heritage within match racing. The island of Blekholmen, the event venue of the 2018 Helsinki Women's Match, is situated in the South Harbour of Helsinki, right in the city centre. The island is a beautiful landmark when entering Helsinki from the sea and the big white wooden clubhouse with its green roof is one of the most photographed buildings in Helsinki.
A number of talented Finnish teams have been competing in events around the world the last couple of years. The ISAF match racing ranking currently has two Finnish skippers, Marinella Laaksonnen and Antonia Degerlund, among the top ten in the world.
"Of course I'm very proud of our club hosting the first WIM Series event again this year. Happy to meet many opponents who've visited Helsinki before but even more excited to welcome newcomers to our town and club. It's especially nice that we're staying at Blekholmen, the white pearl of Helsinki, a small island just outside city center with the best possible view of Helsinki skyline", says Antonia Degerlund, Skipper of Team Sköna Vibbisar who have competed in the WIM Series since 2016. She continues:
"This will be the first race for the season with our full crew, so we are very happy that the whole team is gathered for a full week. We might have some minimal advantage of knowing the boats, but the sailing skills of the women in this competition are at such advanced level that the advantage is indeed very small."
The Helsinki Women's Match is raced in the J80 Class and the first day of racing is June 26th with the first race planned for 10.00 am local time. The first two race days will see a full round robin where eight teams advance to the knockout stage. The final and petite final will be raced on Friday June 29th.
Teams Competing in the 2018 Helsinki Women's Match:
Match in Pink by Normandy Elite Team
Pauline Courtois, Maëlenn Lemaître, Louise Acker, Nathalie Corson , Sophie​ Faguet - France
Current World Sailing Ranking:  2
L2 Match Racing Team
Marinella Laaksonen, Daniela Rönnberg, Camilla Cedercreutz, Henna Holopainen, Eva-Lotta Hokkonen - Finland
Current World Sailing Ranking: 4
Team Kattnakken
Trine Palludan, Lea Richter Vogelius, Josefine Boel Rasmussen, Vivi Lund Møller, Joan Vestergård Hansen - Denmark
Current World Sailing Ranking: 5
Team Bergqvist Match Racing
Johanna Bergqvist, Isabelle Bergqvist, Johanna Thiringer, Ellinor Hansson, Fanny Edgren - Sweden
Current World Sailing Ranking: 7
Team Sköna Vibbisar
Antonia Degerlund, Carla Westersund, Janina Hallberg, Disa Långström, Lisa Gerkman - Finland
Current World Sailing Ranking: 9
Stockholm Match Racing Team
Sanna Häger, Karin Bäckström, Beata Törneman, Klara Häger, Karin Flinkenberg - Sweden
Current World Sailing Ranking: 11
Team Skogman
Jassi Skogman, Julia Jaatela, Tua Jaatela, Katariina Aarnio, Roosa Wederhorn - Finland
Current World Sailing Ranking: 16
Matchmoiselles by Normandy Elite Team
Margot Vennin, Marie Zugolaro, Clotilde Ponçon, Jeanne Lebouvier, Sophonie Affagard - France
Current World Sailing Ranking: 18
Swedish Women's Match Racing Team
Sanna Mattsson, Niki Blässar, Sarah Rosell, Therese Berg, Louise Lindkvist - Sweden
Current World Sailing Ranking: 19
APCC Women Sailing Team 
Margot Riou, Clémentine Hilaire, Marion Ledoux, Pétronille Lauzeral, Tiphaine Ragueneau - France
Current World Sailing Ranking: 20
Team BAAM!
Allie Blecher, Beka Schiff, Katja Sertl, Abby Featherstone, Meg Six - USA
Current World Sailing Ranking: 41
NZ Match
Celia Willison, Charlotte Porter, Paige Cook, Erica Dawson, Alison Kent – New Zealand
Current World Sailing Ranking: 44
Peregrine Racing
Hanna Ericksson, Susu Kukkonen, Sara Edholm, Charlotte Eklund, Raisa Räisänen - Sweden
Current World Sailing Ranking: unranked
~~~~~~
The Women¹s International Match Racing Series (WIM Series) is the first and only professional sailing series for women, hosted by the Women¹s International Match Racing Association and joined by the world¹s leading women match racing sailors. Match racing is sailed in two identical boats around a short course, providing fast action close to the crowds on shore. The intense racing is just as exciting for the spectators as it is strategically, tactically and physically challenging for the competing crews.
WIM Series 2018 calendar
(Name of event, Venue, Country: dates (boat type))
Helsinki Women's Match, Helsinki, Finland : 25 - 29 June (J/80)
Lysekil Women's Match, Lysekil, Sweden : 6 - 11 August (Fareast 28r)
Women's Match Racing World Championship, Ekaterinburg, Russia : 14 - 18 August (Ricochet 747)
Swiss International Women's Match, Ascona, Switzerland : 30 October - 3 November (J/70)
Carlos Aguilar Match Race 2018, St. Thomas, U.S. Virgin Islands : 29 November - 2 December (IC 24)
The WIM Series is hosted by WIMRA. Official suppliers are Sailnet, 1080 Media, MILK, Sailing Education Association of Sheboygan, Adstream and Match Racing Results Service.
For more information on the 2018 WIM Series, visit www.wimseries.com or follow us on social media:
www.facebook.com/WIMSeries
www.twitter.com/WIMSeries
www.youtube.com/WIMRSeries
www.instagram.com/WIMSeries
Images: A number of hi-res images are available for download on www.wimseries.com/media/
More information about the Women¹s International Match Racing Series:
WIM Series Press Officer Fabian Bengtsson, media@wimseries.com
WIM Series Director Anna Holmdahl White, anna@wimseries.com
WIM Series Race Manager, Liz Baylis, liz@wimseries.com
More information about the 2018 Helsinki Women's Match:
Event Coordinator, Peik Åström, peik.astrom@njk.fi, +358 50 589 29 87
http://www.njk.fi/2018-wim-helsinki/
www.facebook.com/NJKmatch
www.twitter.com/NJKSC