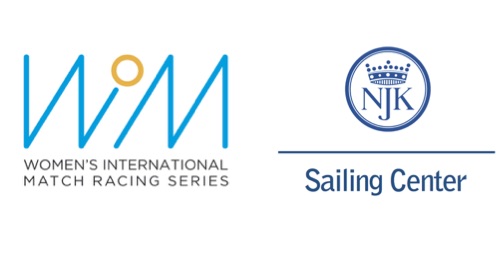 Beautiful Conditions in Helsinki
The 2018 WIM Series opened in sparkling conditions in Helsinki for the first day of racing at the Helsinki Women's Match. Thirteen flights were sailed by the thirteen teams in the beautiful sunshine.
A fairly steady southwesterly breeze made it easy for the race committee lead by French International Race Officer, Anne Mallédant, to bang off races at a quick pace throughout the long midsummer day.
Local sailor Marinella Laaksonen and her L2 Match Racing Team finished the first day undefeated with 5 wins and no losses. Laaksonen credited her teammates by saying "everything worked very well on the boat – communication, maneuvers, and speed. We have sailed three big events, two here in Helsinki and one in Gothenburg, already this spring which has helped us work well as a team."
Another team that caught the attention of the spectators as well as their fellow sailors today was one of the new teams on the WIM Series – NZ Match skippered by Celia Willison finishing the day with 4 wins including a win over 2017 WIM Series Champion, Pauline Courtois. Although this is the team's first time at a WIM Series event, match racing at the international level is not new to them. "We have sailed international events on the youth and open circuits, but this is our first all-women's event as a team and we're having a great time" Willison said when asked about their team's successful first day in Helsinki.
"With only half of the round robin racing completed, it is way too early to see any clear cup favorites, so there is still much to play for tomorrow to see which teams will move on to the quarter-finals" said Liz Baylis, WIM Series Race Manager, after a successful first day.
The round robin racing continues Wednesday. The top eight teams from the round robin series will advance to the knockout quarter-finals on Thursday. The event will conclude on Friday with the semi-finals and finals.
Results in the 2018 Helsinki Women's Match, the first event of the 2018 WIM Series, after day 1 of the round-robin (skipper, team name, nationality, wins – losses):
1. Marinella Laaksonen, L2 Match Racing Team, FIN, 5 – 0
2. Trine Palludan, Team Kattnakken, DEN, 5 – 1
3. Johanna Bergqvist, Team Bergqvist Match Racing, SWE, 5 – 1
4. Antonia Degerlund, Team Sköna Vibbisar, FIN, 5 – 2
5. Celia Willison, NZ Match, NZL, 4 – 2
6. Pauline Courtois, Match in Pink by Normandy Elite Team, FRA, 4 – 3
7. Allie Blecher, Team BAAM!, USA, 3 – 3
8. Sanna Häger, Stockholm Match Racing Team, SWE, 2 – 3
9. Jassi Skogman, Team Skogman, FIN, 2 – 4
9. Margot Vennin, Matchmoiselles by Normandy Elite Team, FRA, 2 – 4
11. Margot Riou, APCC Women Sailing Team, FRA, 2 – 5
12. Sanna Mattsson, Swedish Women's Match Racing Team, SWE, 0 – 5
13. Hanna Ericksson, Peregrine Racing, SWE, 0 – 6
~~~~~~
The Women¹s International Match Racing Series (WIM Series) is the first and only professional sailing series for women, hosted by the Women¹s International Match Racing Association and joined by the world¹s leading women match racing sailors. Match racing is sailed in two identical boats around a short course, providing fast action close to the crowds on shore. The intense racing is just as exciting for the spectators as it is strategically, tactically and physically challenging for the competing crews.
WIM Series 2018 calendar
(Name of event, Venue, Country: dates (boat type))
Helsinki Women's Match, Helsinki, Finland : 25 - 29 June (J/80)
Lysekil Women's Match, Lysekil, Sweden : 6 - 11 August (Fareast 28r)
Women's Match Racing World Championship, Ekaterinburg, Russia : 14 - 18 August (Ricochet 747)
Swiss International Women's Match, Ascona, Switzerland : 30 October - 3 November (J/70)
Carlos Aguilar Match Race 2018, St. Thomas, U.S. Virgin Islands : 29 November - 2 December (IC 24)
The WIM Series is hosted by WIMRA. Official suppliers are Sailnet, 1080 Media, MILK, Sailing Education Association of Sheboygan, Adstream and Match Racing Results Service.
For more information on the 2018 WIM Series, visit www.wimseries.com or follow us on social media:
www.facebook.com/WIMSeries
www.twitter.com/WIMSeries
www.youtube.com/WIMRSeries
www.instagram.com/WIMSeries
Images: A number of hi-res images are available for download on www.wimseries.com/media/
More information about the Women¹s International Match Racing Series:
WIM Series Press Officer Fabian Bengtsson, media@wimseries.com
WIM Series Director Anna Holmdahl White, anna@wimseries.com
WIM Series Race Manager, Liz Baylis, liz@wimseries.com
More information about the 2018 Helsinki Women's Match:
Event Coordinator, Peik Åström, peik.astrom@njk.fi, +358 50 589 29 87
http://www.njk.fi/2018-wim-helsinki/
www.facebook.com/NJKmatch
www.twitter.com/NJKSC