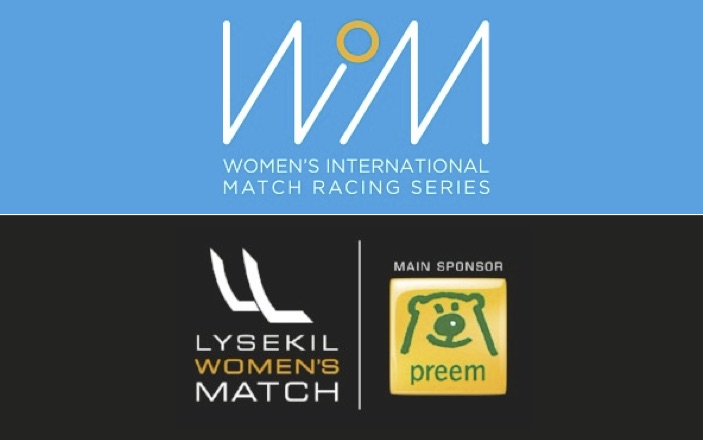 Looking forward to tough battles on Lysekil's match racing arena
This year's edition of Lysekil Women's Match – the world's greatest match racing competition for female sailors – starts on Monday. The participants fight for a total of 300 000 Swedish kronor in prize money.
The line-up for Lysekil Women's Match is now complete. The Russian team ProkaTeam Sailing Team with skipper Ekaterina Kochkina took the last place in the competition. Kochkina made her debut on the WIM Series in 2017 in Helsinki. She has climbed steadily on the International Sailing Federation's ranking during the last few years and is now ranked 23rd in the world.
Half of the twelve team's entering the regatta are among the top ten ranked teams in the world. The top ranked sailor Anna Östling's team are one of the favourites, especially after the team's win in GKSS Match Cup Sweden in early July. But Pauline Courtois, who won the WIM Series last year, will be a strong competitor.
"It will be my fourth time in Lysekil at this amazing event. The best women match race sailors are competing, the arena is an incredible place in front of the rocks, the event has a perfect organization and a great team of volunteers. We are looking forward to racing, to fight hard on the water and being on the podium this week would be incredible", says Pauline Courtois.
"The line-up is very interesting and there are great names like the multiple world champion Claire Leroy and several strong home teams. It is inspiring that there are so many young teams who have emerged and that the new generation in the women's match racing is so strong. Lysekil Women's Match fills an extremely important role for female sailing worldwide", says Anna Holmdahl White, Project Manager for Lysekil Women's Match.
One Swedish team will compete in Lysekil Women's Match for the very first time. Sanna Mattsson and her Sweden Women's Match Racing Team grabbed a place in the regatta thanks to a strong performance in a qualification tournament in Gothenburg last fall. They have practiced a lot in the Fareast 28 boats ahead of the debut next week. 
"We have tried to focus on a lot of boat-specific techniques and exercises and we are very excited and looking forward to a fantastic week in Lysekil", says Sanna Mattsson.
"We want to try to maintain a higher level of performance throughout the regatta. It will go fine if we can raise our lowest level and perform at our best. As it is our first Lysekil Women's Match, we see it as a great experience to be involved and to be fighting for the small margins with the top teams in the world."
The first racing day is on Tuesday, August 7th. The competition is then determined in a round robin where all teams face each other. The best teams from the round robin reach the quarter-finals, which are followed by semi-finals and the final. The final will be raced on Saturday, August 11th.
Line-up for Lysekil Women's Match: (Ranking July 2018, skipper, country, team name)

1. Anna Östling, SWE, Team Anna
2. Pauline Courtois, FRA, Match in Pink by Normandy Elite Team
3. Marinella Laaksonen, FIN, L2 Match Racing Team
5. Johanna Bergqvist, SWE, Team Bergqvist Match Racing
7. Antonia Degerlund, FIN, Team Sköna Vibbisar
12. Alexa Bezel, SUI, Swiss Women Match Racing Team
15. Octavia Owen, GBR, Athena Racing
18. Margot Vennin, FRA, Matchmoiselles by Normandy Elite Team
19. Sanna Mattsson, SWE, Swedish Women´s Match Racing Team
23. Ekaterina Kochkina, RUS, ProkaTeam Sailing Team
38. Claire Leroy, FRA, New Sweden Match Racing Team
(Not on ranking) Henriette Koch, DEN, Women On Water / Team Kattnakken
~~~~~~~~~~~~
The Women¹s International Match Racing Series (WIM Series) is the first and only professional sailing series for women, hosted by the Women¹s International Match Racing Association and joined by the world¹s leading women match racing sailors. Match racing is sailed in two identical boats around a short course, providing fast action close to the crowds on shore. The intense racing is just as exciting for the spectators as it is strategically, tactically and physically challenging for the competing crews.
WIM Series 2018 calendar
(Name of event, Venue, Country: dates (boat type))
Helsinki Women's Match, Helsinki, Finland : 25 - 29 June (J/80)
Lysekil Women's Match, Lysekil, Sweden : 6 - 11 August (Fareast 28r)
Women's Match Racing World Championship, Ekaterinburg, Russia : 14 - 18 August (Ricochet 747)
Swiss International Women's Match, Ascona, Switzerland : 30 October - 3 November (J/70)
Carlos Aguilar Match Race 2018, St. Thomas, U.S. Virgin Islands : 29 November - 2 December (IC 24)
The WIM Series is hosted by WIMRA. Official suppliers are Sailnet, MILK, Sailing Education Association of Sheboygan, Adstream, Fredag and Match Racing Results Service.
Images: A number of hi-res images are available for download on 
www.wimseries.com/media/
Video: All videos are available on 
www.wimseries.com/videos/
More information about the Women's International Match Racing Series:

Press Officer Fabian Bengtsson,
media@wimseries.com
Race Director Anna Holmdahl White,
anna@wimseries.com
Race Manager Liz Baylis, 
Liz@wimseries.com
www.wimseries.com
www.facebook.com/WIMSeries
www.twitter.com/WIMSeries
www.youtube.com/WIMRSeries
www.instagram.com/WIMSeries
~~~~~
Lysekil Women's Match was founded in 2004, and is with a prize purse of SEK 300 000 the largest annual match racing event for women in the world. The 2018 Lysekil Women's Match is sailed August 6 – 11, organized by Sailnet Lysekil AB and Lysekils SS Gullmar. The main sponsor of Lysekil Women's Match is Preem, with the Lysekil Municipality as the host city. Emerson, Kläppen, Sebago, and Svitzer are partners. BMW from Bilia Group is the official car.
A selection of high resolution images from Lysekil Women's Match is available to download at:
https://www.dropbox.com/sh/mwdr5nsj84i1iht/AABUlnrhwzKoMZU55YvbL9vYa?dl=0
More information about the Lysekil Women's Match:
Press Officer Fabian Bengtsson, 
media@sailnet.se
, +46 (0) 70 459 72 12
Project Manager Anna Holmdahl White, 
anna@sailnet.se
, +46 (0) 73 068 42 92
www.lysekilwomensmatch.se
www.facebook.com/lysekilwomensmatc
www.twitter.com/lwmlysekil
www.youtube.com/lysekilwomensmatch
www.instagram.com/lwmlysekil