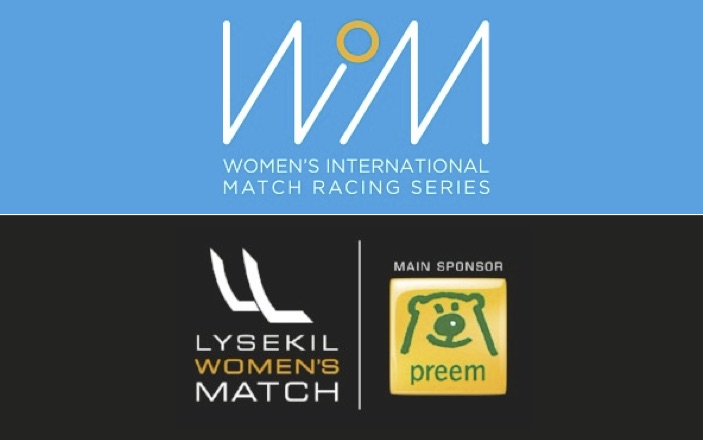 Favorites at the top of the score board after the first day of Lysekil Women's Match
Last year's WIM Series winner Pauline Courtois and her crew maintain a perfect track record having won all of her matches during the first day here in Lysekil and is at the top of the score board. But it is a close race behind her with four teams tied for second place behind the French team.
Today was the 1st day of Lysekil Women's Match 2018 and the sailing arena has treated us to spectacular conditions with sunshine and light but stable south westerly winds, near perfect weather conditions for match racing. All crews will initially face off against each other in a round-robin to determine who will proceed to the quarter finals. During the day we managed to get through half of the racing in this initial stage and in the lead we find the French team Match in Pink by Normandiy Elite Team, skippered by Pauline Courtois, the only team that remains undefeated in the competition.
"All matches are difficult and every situation is different, this is only the first day, but of course we are happy to be in the lead. We won all our pre-starts and managed to maintain our speed, which made it easy for us to stick to our strategy out on the course. We also didn't get any penalties, but tomorrow we are facing of against the higher ranked teams and we will have to focus and take it match for match", says Pauline Courtois.
But the French team aren't leading by much, as four teams behind them are tied for second with four wins each. Out of them are two Swedish teams; Johanna Bergqvist (Bergqvist Matchracing) who took second place in the last WIM Series event that took place in Helsinki earlier this summer and really impressed with her cool during today's racing, but lost her final race of the day to Anna Östling (Team Anna) currently the number one ranked women's team in the world, also with four wins.
"The girls have done a fantastic job today, and everything felt very solid until that last match really, where we probably did every mistake possible, but perhaps it is good to gather all in one race", says Johanna Bergqvist and continues:
"Of course there is some prestige in winning a Swedish derby, but hopefully we get a chance to face Anna later in the week".
The other two teams also sitting on four out of five wins are Danish Henriette Koch, with her experienced Women On Water/Team Kattnakken, who secured two of her victories in spectacular fashion, winning despite taking penalties on the finish line. And finally Claire Leroy stepping in as skipper of New Sweden Match Race Team making a grand comeback on the matchracing scene.
On Wednesday, the round-robin continues with good weather conditions and good winds. The competition start at 9.30am.
Standings in Lysekil Women's Match after the first day of the round-robin (skipper, team, nationality, wins – losses):
1. Pauline Courtois, Match in Pink by Normandy Elite Team, FRA, 5-0
2. Anna Östling, Team Anna, SWE, 4-1
2. Johanna Bergqvist, Team Bergqvist Match Racing, SWE, 4-1
2. Claire Leroy, New Sweden Match Racing Team, FRA, 4-1
2. Henriette Koch, Women On Water / Team Kattnakken, DEN, 4-1
6. Marinella Laaksonen , L2 Match Racing Team, FIN, 3-2
7. Alexa Bezel, Swiss Women Match Racing Team, SUI, 2-3
7. Margot Vennin, Matchmoiselles by Normandy Elite Team, FRA, 2-3
9. Antonia Degerlund, Team Sköna Vibbisar, FIN, 1-4
9. Ekaterina Kochkina, ProKaTeam Sailing Team, RUS, 1-4
11. Octavia Owen, Athena Racing, GBR, 0-5
11. Sanna Mattsson, Swedish Women's Match Racing Team, SWE, 0-5
~~~~~~~~~~~~
The Women¹s International Match Racing Series (WIM Series) is the first and only professional sailing series for women, hosted by the Women¹s International Match Racing Association and joined by the world¹s leading women match racing sailors. Match racing is sailed in two identical boats around a short course, providing fast action close to the crowds on shore. The intense racing is just as exciting for the spectators as it is strategically, tactically and physically challenging for the competing crews.
WIM Series 2018 calendar
(Name of event, Venue, Country: dates (boat type))
Helsinki Women's Match, Helsinki, Finland : 25 - 29 June (J/80)
Lysekil Women's Match, Lysekil, Sweden : 6 - 11 August (Fareast 28r)
Women's Match Racing World Championship, Ekaterinburg, Russia : 14 - 18 August (Ricochet 747)
Swiss International Women's Match, Ascona, Switzerland : 30 October - 3 November (J/70)
Carlos Aguilar Match Race 2018, St. Thomas, U.S. Virgin Islands : 29 November - 2 December (IC 24)
The WIM Series is hosted by WIMRA. Official suppliers are Sailnet, MILK, Sailing Education Association of Sheboygan, Adstream, Fredag and Match Racing Results Service.
Images: A number of hi-res images are available for download on 
www.wimseries.com/media/
Video: All videos are available on 
www.wimseries.com/videos/
More information about the Women's International Match Racing Series:

Press Officer Fabian Bengtsson,
media@wimseries.com
Race Director Anna Holmdahl White,
anna@wimseries.com
Race Manager Liz Baylis, 
Liz@wimseries.com
www.wimseries.com
www.facebook.com/WIMSeries
www.twitter.com/WIMSeries
www.youtube.com/WIMRSeries
www.instagram.com/WIMSeries
~~~~~
Lysekil Women's Match was founded in 2004, and is with a prize purse of SEK 300 000 the largest annual match racing event for women in the world. The 2018 Lysekil Women's Match is sailed August 6 – 11, organized by Sailnet Lysekil AB and Lysekils SS Gullmar. The main sponsor of Lysekil Women's Match is Preem, with the Lysekil Municipality as the host city. Emerson, Kläppen, Sebago, and Svitzer are partners. BMW from Bilia Group is the official car.
A selection of high resolution images from Lysekil Women's Match is available to download at:
https://www.dropbox.com/sh/mwdr5nsj84i1iht/AABUlnrhwzKoMZU55YvbL9vYa?dl=0
More information about the Lysekil Women's Match:
Press Officer Fabian Bengtsson, 
media@sailnet.se
, +46 (0) 70 459 72 12
Project Manager Anna Holmdahl White, 
anna@sailnet.se
, +46 (0) 73 068 42 92
www.lysekilwomensmatch.se
www.facebook.com/lysekilwomensmatc
www.twitter.com/lwmlysekil
www.youtube.com/lysekilwomensmatch
www.instagram.com/lwmlysekil