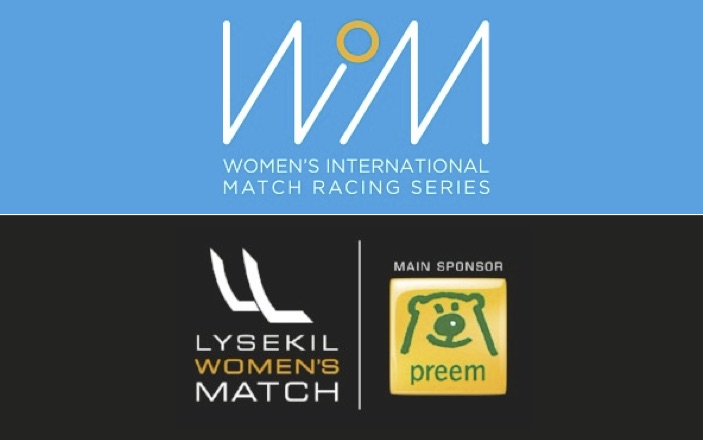 The World Elite In Match Racing Is Ready For Competition
Today is the start of this year's edition of Lysekil Women's Match, the world's leading match racing competition for female sailors. It is also the second event in the 2018 Women's International Match Racing Series (WIM Series), which means that there are a lot at stake when some of the world's best matchracers settle in Lysekil August 6-11.
Five exciting racing days awaits this year's edition of Lysekil Women's Match. The line-up consists of the world elite and there are twelve crews competing. Team Anna (SWE), consisting of Anna Östling, Annie Wennergren, Linnéa Wennergren, Annika Carlunger and Marie Berg, has sailed together since 2013 and is ranked number one in the world ranking. Their expectations are high.
– "Today's practice was great. We had a good flow and are excited about today. We need to focus on matchracing, get into our routines so that we can make quick decisions and then go all in" says Annie Wennergren.
– "Our goal is to have fun, enjoy this week and fight to reach the podium. Lysekil is the best event for female matchracing in the world I would say, both in terms of the event it self but also the prize money. It is a fantastic arena that brings the best sailors here" adds Marie Berg.
The competition is tough. Pauline Courtois (FRA) who won the WIM Series 2017 is back to defend her title. There are also several strong home teams and many young teams who is here to make their way.
– "The line-up is very strong and there's gonna be some really exciting sailing. The mix is good, with the young sailors and the more established ones" says Anna Holmdahl, Project Manager for Lysekil Women's Match.
The New Sweden Match Racing Team is competing for the 8th time in Lysekil and this year they will sail with the multiple world champion Claire Leroy on the helm. Last time she was in Lysekil was in 2013.
– "It feels very good to be back and to get to sail and compete with these girls. The training today went well, we need to become more as a team to discover all the great things we can do during the week. It feels great and I'm looking forward racing today" says Claire Leroy.
Tuesday's weather is expected to be fairly light winds with stronger  winds ahead at the end of the week - conditions that promises good match racing and a great event in general.
– "We have been working on this event since we closed last year and it feels amazing to get started now. We have a great mix of fun activities, incredible food and fantastic entertainment for everyone. We are looking forward welcoming everyone here in Lysekil all week long" says Anna Holmdahl.
The first racing day is on Tuesday, August 7th. The competition is then determined in a round robin where all teams face each other. The best teams from the round robin reach the quarter-finals, which are followed by semi-finals and the final. The final will be raced on Saturday, August 11th.
Line-up for Lysekil Women's Match: (Ranking July 2018, team name - country, skipper, crew)

1. Team Anna - SWE
Anna Östling, Annie Wennergren, Linnéa Wennergren, Marie Berg, Annika Carlunger
2. Match in Pink by Normandy Elite Team - FRA
Pauline Courtois, Maëlenn Lemaître, Louise Acker, Nathalie Corson , Sophie​ Faguet
3. L2 Match Racing Team - FIN
Marinella Laaksonen, Daniela Rönnberg, Camilla Cedercreutz, Roosa Wederhorn, Eva-Lotta Hokkonen
5. Team Bergqvist Match Racing - SWE
Johanna Bergqvist, Isabelle Bergqvist, Johanna Thiringer, Ellinor Hansson, Anna Sundberg
7. Team Sköna Vibbisar - FIN
Antonia Degerlund, Carla Westersund, Janina Hallberg, Disa Långström, Lisa Gerkman
12. Swiss Women Match Racing Team - SUI
Alexa Bezel, Fiona Testuz, Manon Kivell, Louise Thilo, Nicole Bolliger
15. Athena Racing - GBR
Octavia Owen, Ruby Riggs, Amber Riggs, Hebe Hemming, Pip Benson
18. Matchmoiselles by Normandy Elite Team - FRA
Margot Vennin, Marie Zugolaro, Clotilde Ponçon, Juliette Dubreuil, Sophonie Affagard
19. Swedish Women's Match Racing Team - SWE
Sanna Mattsson, Niki Blässar, Therese Berg, Louise Lindkvist, Nellie Lindnér
23. ProKaTeam Sailing Team - RUS
Ekaterina Kochkina, Tatiana Suslova, Natalia Noga, Sara Edholm, Ann Johnson
38. New Sweden Match Racing Team - FRA
Claire Leroy, Louise Kruuse af Verchou, Klara Ekdahl, Frida Langenius, Malin Holmberg
(unranked) Women On Water / Team Kattnakken - DEN
Henriette Koch, Trine Bentzen, Josefine Boel Rasmussen, Lærke Ilsøe Nørgaard, Lærke Marie Sørensen
~~~~~~~~~~~~
The Women¹s International Match Racing Series (WIM Series) is the first and only professional sailing series for women, hosted by the Women¹s International Match Racing Association and joined by the world¹s leading women match racing sailors. Match racing is sailed in two identical boats around a short course, providing fast action close to the crowds on shore. The intense racing is just as exciting for the spectators as it is strategically, tactically and physically challenging for the competing crews.
WIM Series 2018 calendar
(Name of event, Venue, Country: dates (boat type))
Helsinki Women's Match, Helsinki, Finland : 25 - 29 June (J/80)
Lysekil Women's Match, Lysekil, Sweden : 6 - 11 August (Fareast 28r)
Women's Match Racing World Championship, Ekaterinburg, Russia : 14 - 18 August (Ricochet 747)
Swiss International Women's Match, Ascona, Switzerland : 30 October - 3 November (J/70)
Carlos Aguilar Match Race 2018, St. Thomas, U.S. Virgin Islands : 29 November - 2 December (IC 24)
The WIM Series is hosted by WIMRA. Official suppliers are Sailnet, MILK, Sailing Education Association of Sheboygan, Adstream, Fredag and Match Racing Results Service.
Images: A number of hi-res images are available for download on 
www.wimseries.com/media/
Video: All videos are available on 
www.wimseries.com/videos/
More information about the Women's International Match Racing Series:

Press Officer Fabian Bengtsson,
media@wimseries.com
Race Director Anna Holmdahl White,
anna@wimseries.com
Race Manager Liz Baylis, 
Liz@wimseries.com
www.wimseries.com
www.facebook.com/WIMSeries
www.twitter.com/WIMSeries
www.youtube.com/WIMRSeries
www.instagram.com/WIMSeries
~~~~~
Lysekil Women's Match was founded in 2004, and is with a prize purse of SEK 300 000 the largest annual match racing event for women in the world. The 2018 Lysekil Women's Match is sailed August 6 – 11, organized by Sailnet Lysekil AB and Lysekils SS Gullmar. The main sponsor of Lysekil Women's Match is Preem, with the Lysekil Municipality as the host city. Emerson, Kläppen, Sebago, and Svitzer are partners. BMW from Bilia Group is the official car.
A selection of high resolution images from Lysekil Women's Match is available to download at:
https://www.dropbox.com/sh/mwdr5nsj84i1iht/AABUlnrhwzKoMZU55YvbL9vYa?dl=0
More information about the Lysekil Women's Match:
Press Officer Fabian Bengtsson, 
media@sailnet.se
, +46 (0) 70 459 72 12
Project Manager Anna Holmdahl White, 
anna@sailnet.se
, +46 (0) 73 068 42 92
www.lysekilwomensmatch.se
www.facebook.com/lysekilwomensmatc
www.twitter.com/lwmlysekil
www.youtube.com/lysekilwomensmatch
www.instagram.com/lwmlysekil