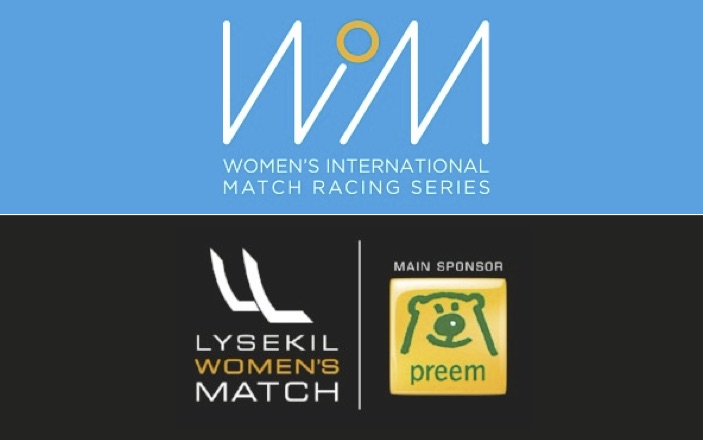 Danish Henriette Koch takes charge in wavering conditions
Day two of Lysekil Women's Match commenced with the 11th flight of the round-robin, and the light and shifting conditions caused some delays. When the wind finally picked up, Danish Henriette Koch emerged as the strongest competitior out on the course to climb to the top of the leaderboard.
Shifting weather conditions summarizes the second day of Lysekil Women's Match. In the morning the wind went from non-existent to 20 knots in the matter of minutes. A team that took advantage of the changing conditions, especially in their match against Swiss skipper Alexa Bezel, was Women on Water/Team Kattnakken from Denmark, skippered by Henriette Koch.
"There were many dark clouds and it was difficult to read which of them would impact the conditions, but, we read it well and were able to trim our sails accordingly. We were extending on every leg of the course, allowing us to focus and sail conservatively to minimize mistakes", says trimmer Trine Bentzen.
In their second match of the day against French Pauline Courtois, the Danes took the command directly leading from start to finish.
"It was definitely our most fun match so far in the competition. Pauline was at that point still undefeated and approached the match aggressively. Luckily, we were able to match her style and take a very important victory", says skipper Henriette Koch.
The only Swedish team to sail before the winds subsided at lunch, delaying the racing, was Sanna Mattsson and her Swedish Women's Match Racing Team. Her race against Finland's Marinella Laaksonen had a dramatic start, when Mattsson's jib batten got stuck twisted around her fore stay causing her boat to drift toward the cliffs of the famous spectator mountain Släggö. Both crew and boat remained unharmed, but forced Mattson to abandon the race leaving Laaksonen to sail around the course in solitude. The team of mechanics surveyed the boat, and it was soon thereafter back on the course and took the victory in the ProAm race.
Later in the afternoon when the racing proceeded, the race committee was able to complete three further flights in rain and a strong southerly breeze – excellent conditions for match racing, giving Sanna Mattson a chance for redemption as she won her first match of the competition against British Octavia Owen. Danish Henriette Koch secured two additional victories, and is the only team who has secured a spot in the quarter finals with her nine victories out of ten sailed matches. The remaining three direct qualifying spots are still up for grabs, as the other teams at the top have completed an uneven number of matches. Going into Thursday the wind prognosis looks more stable and the ambition is to complete the round-robin to find out which teams will join the Danish team into the quarter final.
Standings in Lysekil Women's Match after day two of the round-robin (skipper, team, nationality, wins – losses):
1. Henriette Koch, Women On Water / Team Kattnakken, DEN, 9-1
2. Pauline Courtois, Match in Pink by Normandy Elite Team, FRA, 7-1
3. Anna Östling, Team Anna, SWE, 4-1
4. Johanna Bergqvist, Team Bergqvist Match Racing, SWE, 4-1
5. Claire Leroy, New Sweden Match Racing Team, FRA, 5-2
6. Marinella Laaksonen , L2 Match Racing Team, FIN, 5-3
7. Alexa Bezel, Swiss Women Match Racing Team, SUI, 4-4
8. Margot Vennin, Matchmoiselles by Normandy Elite Team, FRA, 3-7
9. Ekaterina Kochkina, ProKaTeam Sailing Team, RUS, 2-5
10. Antonia Degerlund, Team Sköna Vibbisar, FIN, 1-4
11. Sanna Mattsson, Swedish Women's Match Racing Team, SWE, 1-9
12. Octavia Owen, Athena Racing, GBR, 0-7
~~~~~~~~~~~~
The Women¹s International Match Racing Series (WIM Series) is the first and only professional sailing series for women, hosted by the Women¹s International Match Racing Association and joined by the world¹s leading women match racing sailors. Match racing is sailed in two identical boats around a short course, providing fast action close to the crowds on shore. The intense racing is just as exciting for the spectators as it is strategically, tactically and physically challenging for the competing crews.
WIM Series 2018 calendar
(Name of event, Venue, Country: dates (boat type))
Helsinki Women's Match, Helsinki, Finland : 25 - 29 June (J/80)
Lysekil Women's Match, Lysekil, Sweden : 6 - 11 August (Fareast 28r)
Women's Match Racing World Championship, Ekaterinburg, Russia : 14 - 18 August (Ricochet 747)
Swiss International Women's Match, Ascona, Switzerland : 30 October - 3 November (J/70)
Carlos Aguilar Match Race 2018, St. Thomas, U.S. Virgin Islands : 29 November - 2 December (IC 24)
The WIM Series is hosted by WIMRA. Official suppliers are Sailnet, MILK, Sailing Education Association of Sheboygan, Adstream, Fredag and Match Racing Results Service.
Images: A number of hi-res images are available for download on 
www.wimseries.com/media/
Video: All videos are available on 
www.wimseries.com/videos/
More information about the Women's International Match Racing Series:

Press Officer Fabian Bengtsson,
media@wimseries.com
Race Director Anna Holmdahl White,
anna@wimseries.com
Race Manager Liz Baylis, 
Liz@wimseries.com
www.wimseries.com
www.facebook.com/WIMSeries
www.twitter.com/WIMSeries
www.youtube.com/WIMRSeries
www.instagram.com/WIMSeries
~~~~~
Lysekil Women's Match was founded in 2004, and is with a prize purse of SEK 300 000 the largest annual match racing event for women in the world. The 2018 Lysekil Women's Match is sailed August 6 – 11, organized by Sailnet Lysekil AB and Lysekils SS Gullmar. The main sponsor of Lysekil Women's Match is Preem, with the Lysekil Municipality as the host city. Emerson, Kläppen, Sebago, and Svitzer are partners. BMW from Bilia Group is the official car.
A selection of high resolution images from Lysekil Women's Match is available to download at:
https://www.dropbox.com/sh/mwdr5nsj84i1iht/AABUlnrhwzKoMZU55YvbL9vYa?dl=0
More information about the Lysekil Women's Match:
Press Officer Fabian Bengtsson, 
media@sailnet.se
, +46 (0) 70 459 72 12
Project Manager Anna Holmdahl White, 
anna@sailnet.se
, +46 (0) 73 068 42 92
www.lysekilwomensmatch.se
www.facebook.com/lysekilwomensmatc
www.twitter.com/lwmlysekil
www.youtube.com/lysekilwomensmatch
www.instagram.com/lwmlysekil