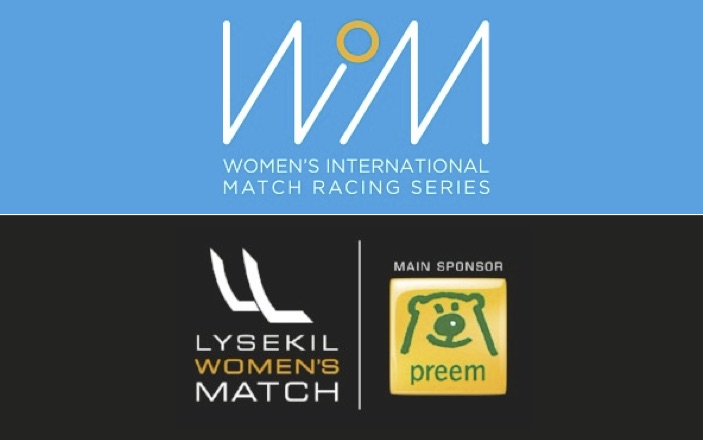 Quarter-finals has kicked off in Lysekil Women's Match
On Thursday, the round-robin ended in spectacular fashion with the last quarter-final spot not decided until the last flight and the quarter-finals kicked off. Eight teams moved on including the Swedish teams of Anna Östling and Johanna Bergqvist.
The spectators on Lysekil's beautiful cliffs were able to enjoy fantastic match racing in the dazzling sunshine and shifty westerly wind. As the wind forecast for Friday shows up to 50 knots, the race comittee made the decision to skip the repechage round and move on to quarter-finals with the eight highest ranked crews.
The quarter-finals began on Thursday afternoon with a best-of-five format. Henriette Koch (DEN), won the round-robin with ten victories, and chose Antonia Degerlund (FIN) as her opponent. Degerlund made it into the quarter finals with the least possible margin through a victory in their last round-robin match againt Swiss Bezel. A matchin which they were counted out, but fortunes changed.
"You can never give up, if you do, you might as well stay at home. I compare it with a party – if you're thinking about how to get back home from the party, before it even started, you shouldn't go", says Lisa Gerkman, bow, about the win.
However, as the quarter finals started, Koch and her crew sailed as stable as ever and took two wins in a row. If the race committee decides to cut to a best-of-three format due to stormy winds on Friday, this means Koch is ready for semi-finals on Saturday.
This goes for Johanna Bergqvist and her crew Team Bergqvist Match Racing as well, who got off to a better start giving them a solid lead in their first match against Claire Leroy, skipper for New Sweden Match Racing Team. A lead they could keep all the way over the finish line. The second match was much more even but when Leroy's gennaker went up with an hourglass twist, Bergqvist could easily sail toward a second victory.
– We did a split start since the started sailing by the lee. We noticed there was quite a lot of pressure on the right and that we had to go in and face it. We got a samll lead which made it easy for u sto stick to our strategy, says Johanna Bergqvist who leaves today with a good feeling within her team.
In the evening the winds faded. Swedish team Anna Östling and French team Pauline Courtois both won their two quarter-final matches and are also in a good position for the semi-finals as they raced in light and shifty breeze. Decisions regarding tomorrows competiton have not yet been made.
For Sanna Mattsson (SWE), Octavia Owen (GBR), Ekaterina Kochkina (RUS) and Margot Vennin (FRA), Lysekil Women's Match 2018 is over.
Racing will continue through Saturday.
Results in the quarter-finals in Lysekil Women's Match after Thursday:
Claire Leroy, FRA – Johanna Bergqvist, SWE 0 – 2
Pauline Courtois, FRA – Marinella Laaksonen, FIN 2 – 0
Anna Östling, SWE – Alexa Bezel, SUI 2 – 0
Henriette Koch, DEN – Antonia Degerlund, FIN 2 – 0
Standings in Lysekil Women's Match after round-robin (skipper, team, nationality, wins – losses):
1. Henriette Koch, Women On Water / Team Kattnakken, DEN, 10-1
2. Anna Östling, Team Anna, SWE, 9-2
3. Pauline Courtois, Match in Pink by Normandy Elite Team, FRA, 9-2
4. Claire Leroy, New Sweden Match Racing Team, FRA, 8-3
5. Marinella Laaksonen , L2 Match Racing Team, FIN, 8-3
6. Johanna Bergqvist, Team Bergqvist Match Racing, SWE, 6-5
7. Alexa Bezel, Swiss Women Match Racing Team, SUI, 5-6
8. Antonia Degerlund, Team Sköna Vibbisar, FIN, 3-8
9. Ekaterina Kochkina, ProKaTeam Sailing Team, RUS, 3-8
10. Margot Vennin, Matchmoiselles by Normandy Elite Team, FRA, 3-8
11. Sanna Mattsson, Swedish Women's Match Racing Team, SWE, 1-10
12. Octavia Owen, Athena Racing, GBR, 1-10
~~~~~~~~~~~~
The Women¹s International Match Racing Series (WIM Series) is the first and only professional sailing series for women, hosted by the Women¹s International Match Racing Association and joined by the world¹s leading women match racing sailors. Match racing is sailed in two identical boats around a short course, providing fast action close to the crowds on shore. The intense racing is just as exciting for the spectators as it is strategically, tactically and physically challenging for the competing crews.
WIM Series 2018 calendar
(Name of event, Venue, Country: dates (boat type))
Helsinki Women's Match, Helsinki, Finland : 25 - 29 June (J/80)
Lysekil Women's Match, Lysekil, Sweden : 6 - 11 August (Fareast 28r)
Women's Match Racing World Championship, Ekaterinburg, Russia : 14 - 18 August (Ricochet 747)
Swiss International Women's Match, Ascona, Switzerland : 30 October - 3 November (J/70)
Carlos Aguilar Match Race 2018, St. Thomas, U.S. Virgin Islands : 29 November - 2 December (IC 24)
The WIM Series is hosted by WIMRA. Official suppliers are Sailnet, MILK, Sailing Education Association of Sheboygan, Adstream, Fredag and Match Racing Results Service.
Images: A number of hi-res images are available for download on 
www.wimseries.com/media/
Video: All videos are available on 
www.wimseries.com/videos/
More information about the Women's International Match Racing Series:

Press Officer Fabian Bengtsson,
media@wimseries.com
Race Director Anna Holmdahl White,
anna@wimseries.com
Race Manager Liz Baylis, 
Liz@wimseries.com
www.wimseries.com
www.facebook.com/WIMSeries
www.twitter.com/WIMSeries
www.youtube.com/WIMRSeries
www.instagram.com/WIMSeries
~~~~~
Lysekil Women's Match was founded in 2004, and is with a prize purse of SEK 300 000 the largest annual match racing event for women in the world. The 2018 Lysekil Women's Match is sailed August 6 – 11, organized by Sailnet Lysekil AB and Lysekils SS Gullmar. The main sponsor of Lysekil Women's Match is Preem, with the Lysekil Municipality as the host city. Emerson, Kläppen, Sebago, and Svitzer are partners. BMW from Bilia Group is the official car.
A selection of high resolution images from Lysekil Women's Match is available to download at:
https://www.dropbox.com/sh/mwdr5nsj84i1iht/AABUlnrhwzKoMZU55YvbL9vYa?dl=0
More information about the Lysekil Women's Match:
Press Officer Fabian Bengtsson, 
media@sailnet.se
, +46 (0) 70 459 72 12
Project Manager Anna Holmdahl White, 
anna@sailnet.se
, +46 (0) 73 068 42 92
www.lysekilwomensmatch.se
www.facebook.com/lysekilwomensmatc
www.twitter.com/lwmlysekil
www.youtube.com/lysekilwomensmatch
www.instagram.com/lwmlysekil